What Nina's Brides Raving About: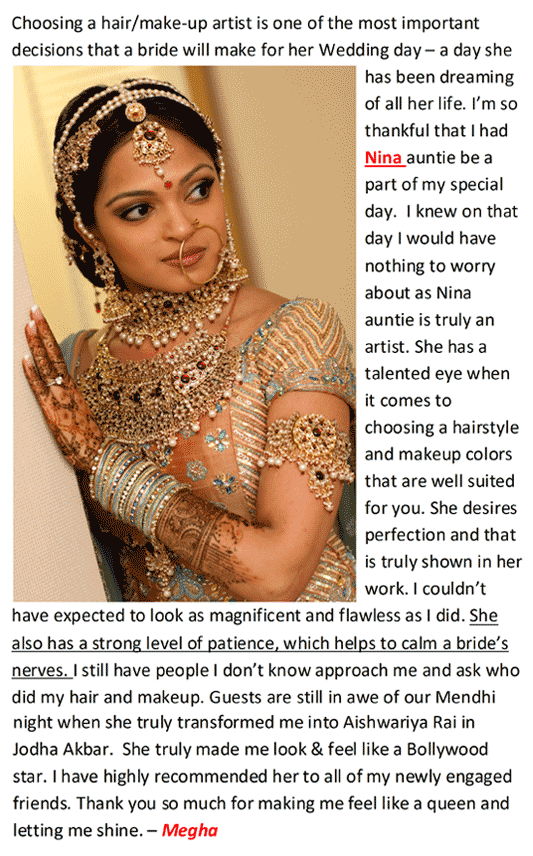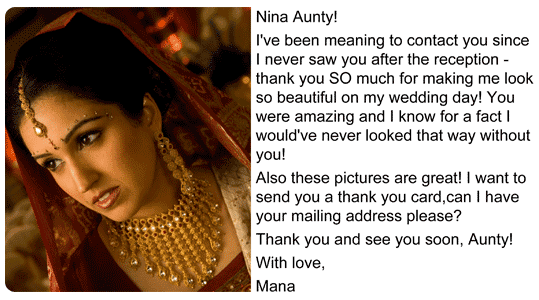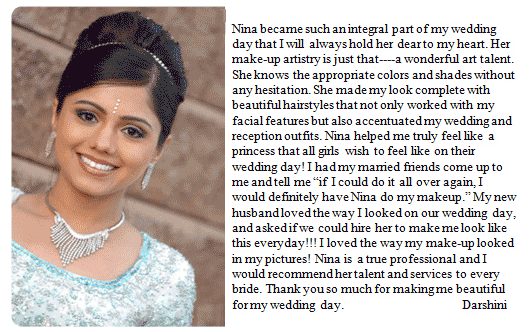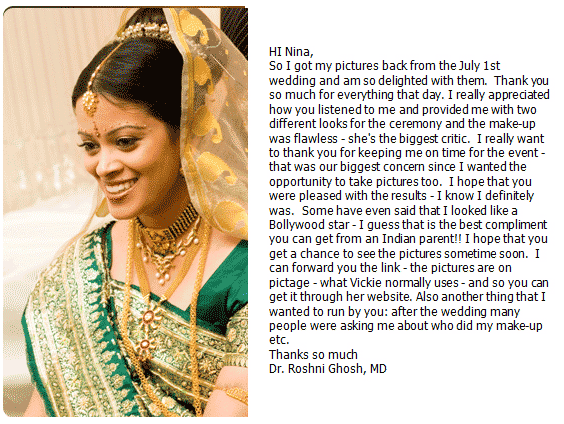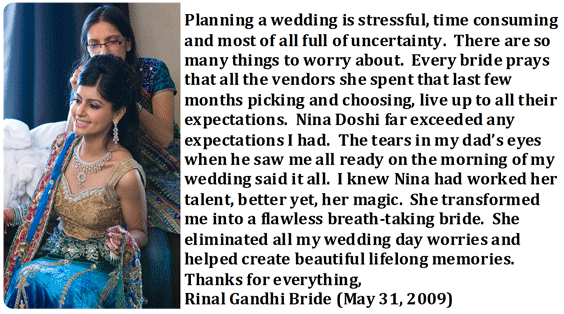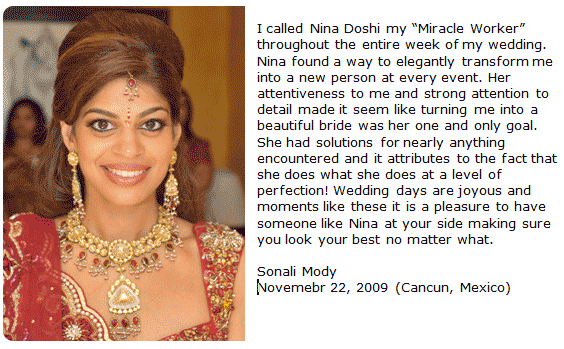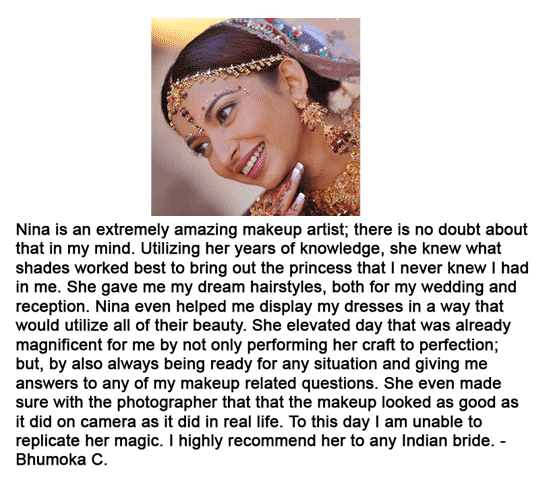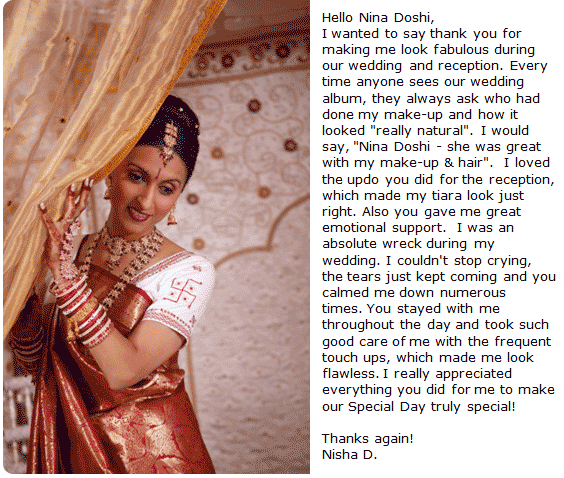 Click here for Prerna's advice to every bride-to-be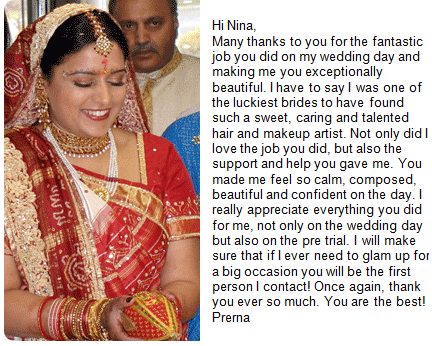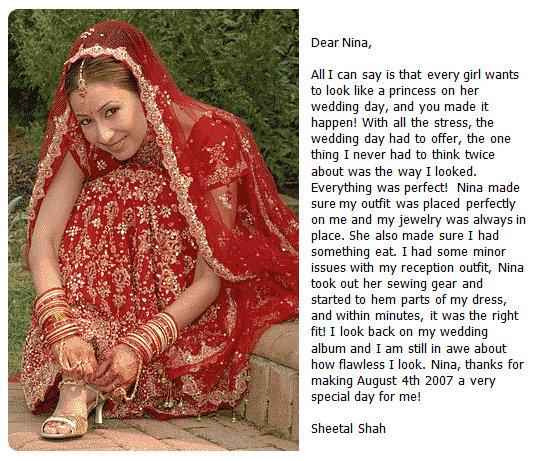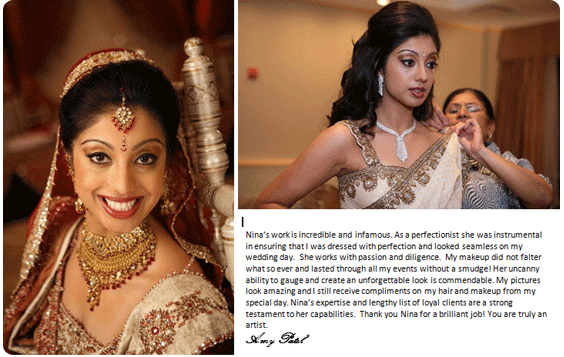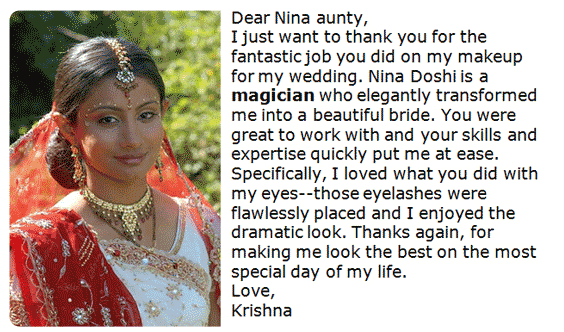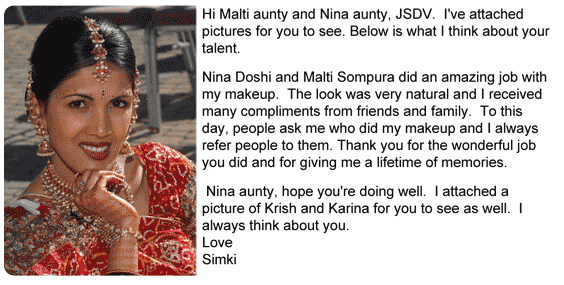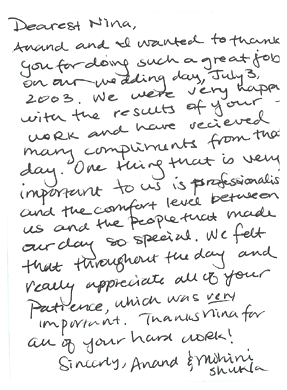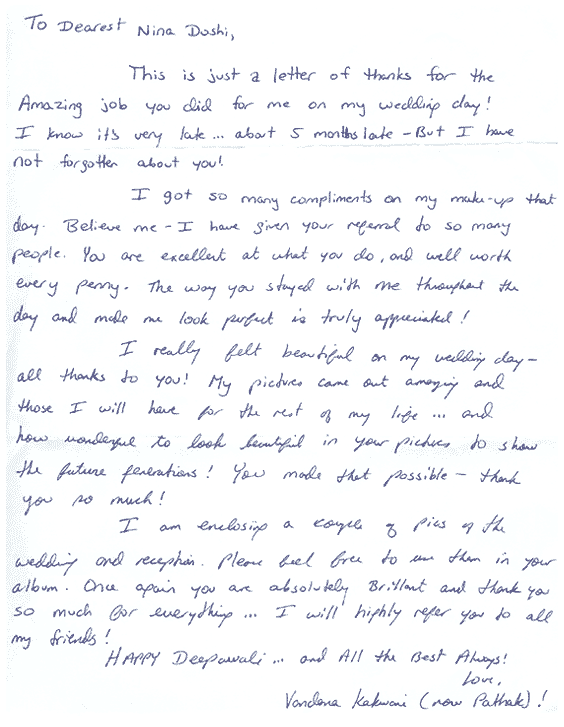 Dearest Nina,
Want to send a special THANKS to you for the amazing flawless job you did for my BIG day. As I see the pictures today I cannot believe the way I look. Hemant was stunned with the way I looked as I entered the isle. And it could not have happened without your magical touch. Thank you for making me feel so beautiful along with looking so beautiful. I was so relaxed and calm before the wedding and part of it was the way you made me feel. In addition want to thank you for coming to the temple to do my touch ups and help me with the pictures. Knowing the fact that you had not slept the night before, I couldn't believe you stayed up all-day and did such a perfect job. The best part was you were always there on time. I am sure you hear this from many, the reason being you actually deliver what you commit to. And the outcome of that is millions of smiles with happiness and joy to the bride, groom, their parents and so many more. For my reception make up – many asked me to darken by lipstick or tie my hair up. Although Hemant loved my hair left down and am glad you could accommodate his opinion in our BIG day. I stuck to your shades, as I believed that you knew your job better than I do. And believe it or not my pictures have come out beautiful. Thanks to you again for EVERYTHING.
To all the "brides to be":
If you are spending so much money on weddings, it's not worth spoiling the way you look by hiring just some MADE UP artist. Believe me it is not worth compromising on the way you look, because this is your day and everyone is going to be admiring your look. Imagine if the food, banquet, cake, DJ and outfits were great, but your make up was not. You spent all this money for what again? I strongly recommend Nina. She is a perfectionist and too good to be true infact. She picks out the shades for your skin, your outfit, your jewelry & your mood! All brides look gorgeous, but Nina can make anyone look stunning as she not only does the Make Up flawlessly, but she makes you feel beautiful & relaxed at the same time. For those particular about their skin, she uses excellent quality of cosmetic products. As most of the wedding day passes by in a moment, and next thing you know is you cannot wait to see your pictures. Nina knows and understands shades not only for skin types, but also for photography. She knows what will look good for the long lasting memories that we have to live with. The best part about her is she keeps up with your word. She is honest and will tell you upfront what is best for you. In short, Nina knows her job!

Best regards,
Prerana
From: roopal
Subject: thank you
To: bride@ninadoshi.com
Date: Tue, 18 Apr 2006 10:12:08 -0700
Hi Nina - I just wanted to thank you for all you did on Saturday for my sister, parul. We had no idea her wedding day would be so stressful, but you really went out of your way, as did malti auntie, to make her feel better and reassured. You went above and beyond -- I just wanted you to know that when we decided we would like for you to do our make-up and hair, it was because we were so impressed by your skills in the area. However, you showed us such a touching and caring side that it made my sister's big day goes even better. We thank you for all the extras you did - from my daughters to parul's friends. We hope to see you at a big event sooner than later.
Thank you again for the beautiful job you did on all of us and more so for being so kind and caring. Roopal Patel
Dear Nina,
I just wanted to say Thank you so much for your patience & kindness preparing me for my wedding. I honestly could not have done it without you! You are really so talented & I felt like a princess on my wedding day. Thanks to you. Thank you so much, I will send you the pics soon. Also Samir loved my look as well – he was so amazed!

Thanks,
Ami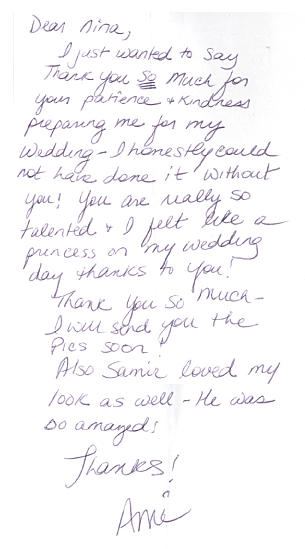 Dear Nina,
Thank you so much for everything! You are a very wonderful and talented person and you definitely made my wedding day extra special. I look forward to seeing you one day and you are always invited to Denver!

Love,
Lisa Patel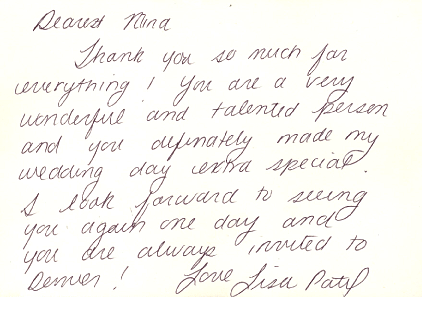 Dear Nina,
Please find enclosed pictures we discussed. As I mentioned to you, you did an amazing job!! Not only I, but everyone was extremely happy with the results. The hair was awesome. You are a master at your field. I will always recommend you to any bride that is for sure. Thanks again for everything and making my wedding day a very memorable experience.

Mupur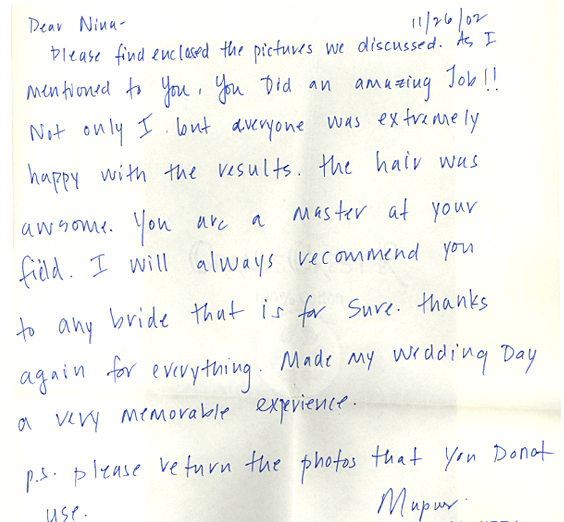 Dear Nina,
Thank you very much for doing such a great job with my hair and make-up! I looked beautiful. Thanks to you, and you kept me calm. I would love to serve as a reference for you.Here is a picture for your album or website and once again I appreciate your hard work and patience.

Sarika.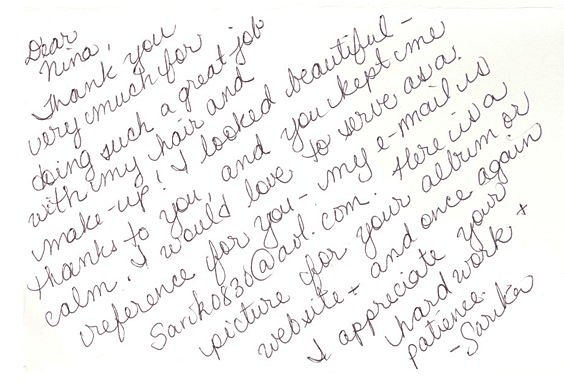 Dear Nina,
Sorry this thank you note is delayed. My schedule has finally slowed down a bit. I just wanted to thank you for coming down both days, especially the night of the valima (pre-marriage function), during the bad weather. You did a great job. My pictures came back, everyone who sees them asks who did the make up & they all say it was done very nicely. I am very happy with your work. Hope you and your family are doing well. Keep in touch. Take care.

Sincerely,
Faaiza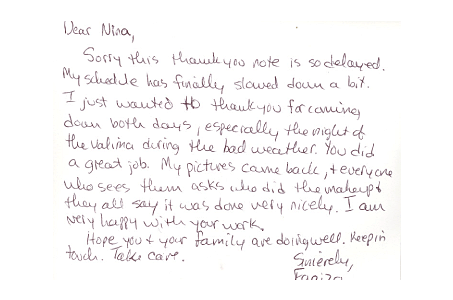 Dear Nina,
Thank you for the awesome job you did at my wedding. People have not stopped talking about how good I looked that day and I know I have to thank you for all of it. The photos came out really well. Feel free to use them on your website if you like.

Thanks again,
Rekha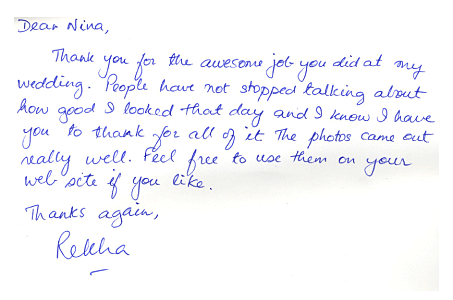 Dear Nina,
I really thank you for what you made me look on my wedding, compared to what I thought I would look in that kind of hair setting & make-up. Everyone appreciated it. My husband LOVED IT TOO! Best thing was that I didn't look decked-up, which is generally the case with a bride make-up. Thanks again. I am sending the photographs too.

With Love,
Aparna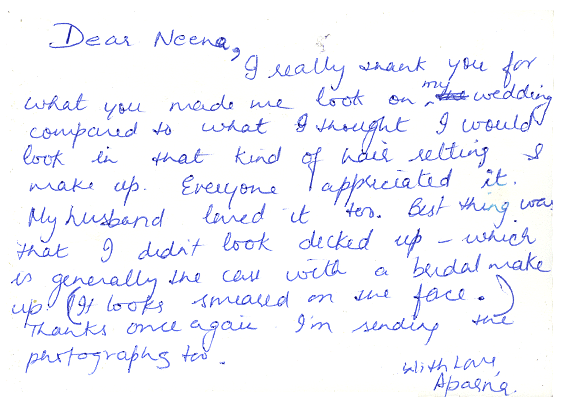 Dear Nina,
I would like to thank you very much for doing such a beautiful and special job for me at my wedding. Working with you was truly a wonderful experience. The proof from the wedding show-off you expertise – and I am looking forward to sharing some with you very soon. Thank you gain for doing such a great job! I have never felt as beautiful as I did that day.

Love,
Sonali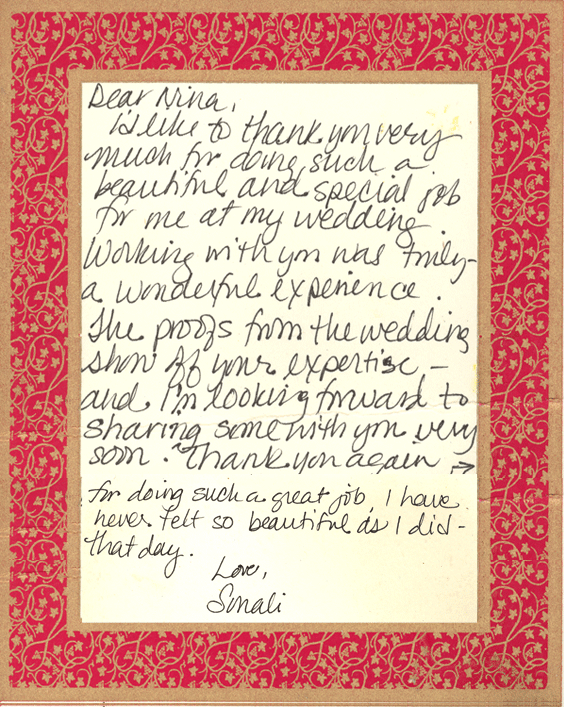 Dear Nina,
I just wanted to send a quick note to thank you (& Mansee) for making my wedding day so beautiful. It really was a perfect day in so many ways and your part in readying me, decorating me, changing me was invaluable to that!. Thank you so much on your patience, creativity, & simply just true talent in bringing me, the bride, to life & keeping me so radiant all day and all night. You achieved/captured just the look we wanted for me on such a special day. I am still a wed by the magic you pulled in concealing my bags!?  . My eyes, my face, my hair was all just right! Take it easy. Hope to see you soon!

Warmly,
Sharmila Rao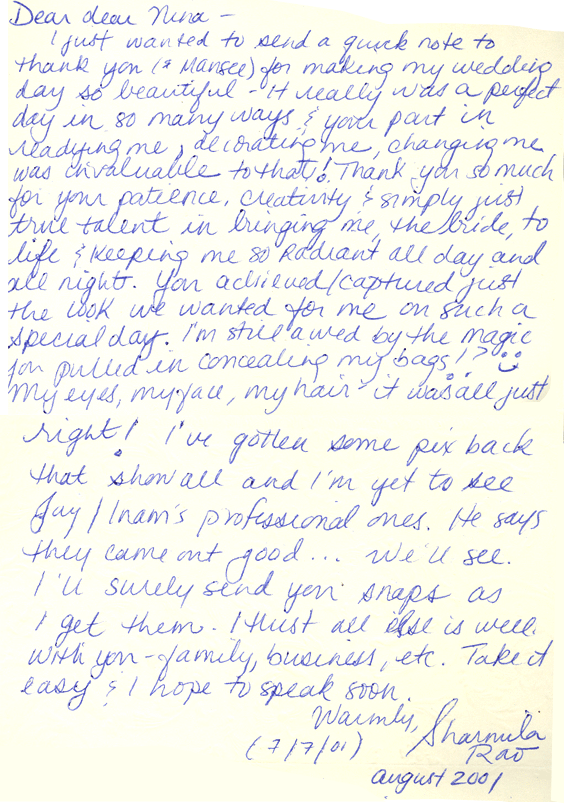 Dear Nina,
Thank you so much for making me look so beautiful. I can not say how many endless compliments I have received on my make-up and hair. If it wasn't for you, I could not have had the wedding of my dreams. I especially want to thank you for the endless phone calls you let me make to you. I apologize if I drove you crazy. But I truly could not have done it without you.

Love,
Namrata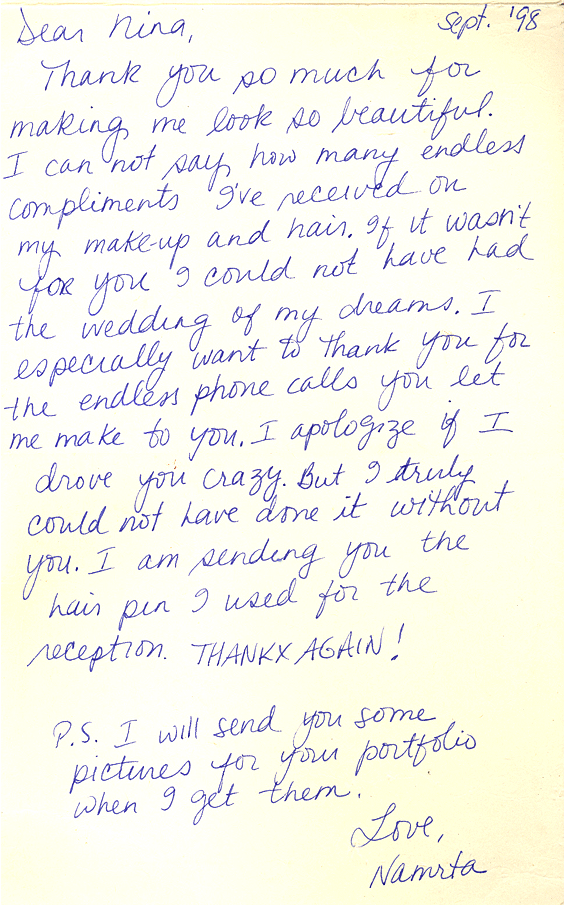 Dear Nina,
Thank you so much for the beautiful job that you did on me for my wedding! It was such a pleasure to finally meet you and work with you. I had heard so much about you from all my friends, so I knew you would do a wonderful job. But you did something I never thought possible. You made my hair look spectacular. My sister, Sapna also thanks you for fixing her hair. None of the pictures and video would have come out so good, if we left the mess created by another beautician. We can look forward to the day you can dress her for her wedding I look forward to seeing you soon.

Reena Chadha Batra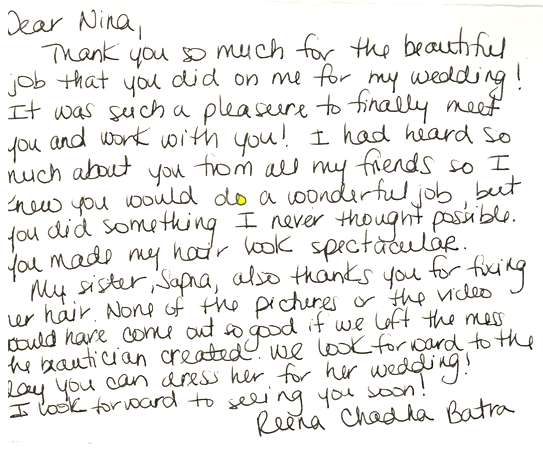 Dear Ninadidi,
I would like to extend my sincere thanks & appreciation for all the hard work and preparation (both, the program and wedding) that went in making me look like a beautiful princess – which everyone seemed acknowledged. As you can see from the picture, your work is flawless. I wish you the very best of luck and continued success in the future, and Thank You once again.

Love always!
Shaile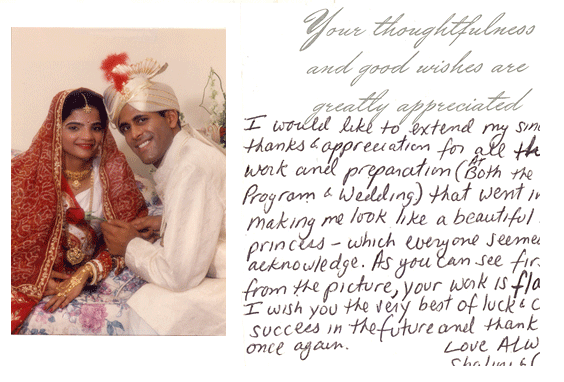 Dear Nina,
This is Shalinie. Just wanted to Thank You for the incredible job you did making me look & feel like an Indian doll that day! The photos all came out so wonderful and I have to Thank You almost as much as the photographer. My wedding day was wonderful & magical event and I want to thank you so much your crucial part in it.

Thank a Bunch!
Shalinie Lamolaui